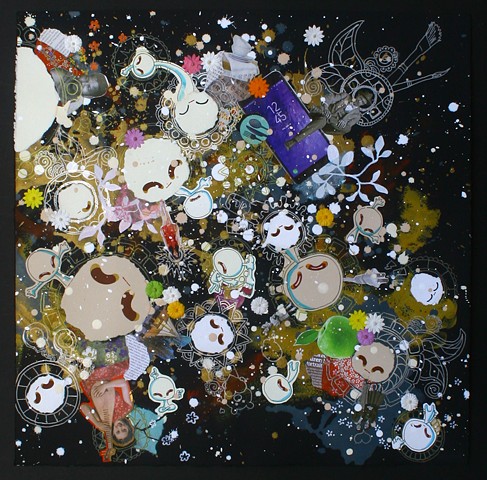 " i won't hurt you, but you might get hurt.
i won't please you,
but you might be pleased
the door is here. the key is in your hand.
everything is up to you
in plain world........."
biography
JUNG JI LEE
AKA; MASAYUKI LEE
Los Angeles Artist Association member
konodamazo inc. on Etsy
konodamazo on facebook
konodamazo on instagram
Education
The School of The Art Institute of Chicago, Chicago IL, USA
Bachelor of Fine Arts
artist statement
Kondomozo and Ubume are two characters that I invented. They serves as my surrogate self, a synthesis of Korean and Japanese cultures, a metaphor for the meeting of opposites, and the border that separates them. While one may interpret this characters as a reflection of a variety of ideas and aesthetics particular to Asian experiences and identities, Kondomozo and Ubume are primarily a response to the racism I faced as a bi-racial person. I wanted to create a creature who is culturally flexible and who personifies self-acceptance.
The universe that Kondomozo and Ubume inhabit is constructed from conscious and subconscious drawings, doodles, text and maps. The palette is inspired by cave paintings.
Kondomozo and Ubume's simple shape is repeated and juxtaposed against a chaotic, drawn environment. Kondomozo and Ubume act as a smooth-skinned, nearly-featurless guide, in a wildly unpredictable and marred universe.
I find inspiration in the work of several artists and the aesthetics of many cultural movements. These influences include: Jean-Michel Basquiat; On Kawara; Yoshitomo Nara; Inka Essenhigh; Mark Manders; Laura Owens; Suh Do-ho; Cy Twombly; Julie Mehrets; Andy Warhol; Jackson Pollock; Gustav Klimt; Noh Theater; Japanese YOUKAI story with Natsuhiko Kyougoku works; KOTODAMA; Super Flat-Takashi Murakami; Otaku culture and Mandala painting.
I believe that everyone perceives themselves—in some way—as a minority of sorts. It is my hope that Kondomozo and Ubume may act as an ambassador of "Other-ness" and that people of all backgrounds will feel at home with them, or curious about them.
Exhibitions & Commissions
Nov. 2021 Group show, Sector Seven Contemporary Art Gallery
Nov. 2021 Full Bodied, Gallery825 (Online)
Oct. 2021 Vagaries, Gallery825 (Online)
Sept. 2021 Online Art show, Gardena Valley Japanese cultural Institute
Aug. 2021Upcycle, Gallery825
Jun. 2021Petite Works, Gallery825 (Online)
Mar. 2021 Ready Go, Gallery825 (Online)
Feb. 2021 Gild, Gallery825 (Online)
Feb. 2021 Informationary, Gallery825
Nov. 2020 KOKORO 2020, Japanese American National Museum
Nov.2020 Aurora, Gallery825 (Online)
Sept. 2020 Online Art show, Gardena Valley Japanese cultural Institute
Sept. 2020 Non sequitur, Gallery825 (Online)
Aug. 2020 Exalted one, Gallery 825 (Online)
Jul. 2020 Habitual, Gallery 825 (Online)
Jun. 2020 Gleaming Apollo, Gallery825 (Online)
May. 2020 Opening Mind show, Transitions Mental Health Association
Feb. 2020 Into the light, Orange County Center for Contemporary
Dec. 2019 Open Show 2019, Gallery 825
Oct. 2019 Brewery Art Walk
July. 2019 There for I am, Orange County Center for Contemporary Art
Jun. 2019 Let Me Eat Cake, Too, Blue Roof Studios
Jun. 2019 Solo show, Cafe Demitasse
Apr. 2019 Brewery Art Walk
Jun. 2019 Art&Beyond Magazine Nude and Figurative Art Annual Issue, LarkgalleryOnline.com
Oct. 2018 Brewery Art Walk
Jul. 2018 Apocrypha, Gallery 825
Jun. 2018 Magnify, Raw Artist Los Angeles
May. 2018 Resist and Recover, KYO gallery
Jan. 2018 Bunk, Gallery 825
Oct. 2017 Brewery Art Walk
Aug. 2017 Tandem show, Opodz
Jul. 2017 Sizzle, Wallspace LA
Dec. 2016 LAAA's Open show, Gallery 825
Oct. 2016 Countenance devine, Gallery 825
Jul. 2016 Artslant Juried exhibition #6 winner, Artslant
Feb. 2016 The Foolish Game, Gallery 825
Nov. 2015 Chestnut, Gallery 825
Sept. 2015 Juried echibition #7 2013 winner, Artslant
Sept. 2015 An Odyssey, Torrance Art Museum
Jul. 2015 Osmosis, wallspace
Jan. 2015 6th Annual Drawing Discourse Exhibition, S. Tucker Gallery
Jul. 2014 Synthesis, wallspace
Oct. 2013, Pop-up art loop
Aug 2013 Juried echibition #7 2013 winner, Artslant
May. 2013 Affordable art, Spacewomb gallery
Mar. 2012 group show, Wall space LA
Jan. 2012 tandem show, LA artcore
Dec. 2011 South Bay Focus,Torrance Art Museum
Dec. 2011 Art-ful SoirEe, Rheeway gallerie
Apr. 2011 2011 Juried exhibition #2 2011, Artslant
Mar. 2011 A dynamic approach, rheeway gallerie
Feb. 2011 for the love of art, the happening gallery
Oct. 2010 Pasadena Artwalk 2010
Sept.2010 Juried exhibition, DAC gallery
Jun. 2010 Juried exhibition #1 2010, Artslant
May. 2010 group show, revisiting beauty, OCCCA
Jan. 2010 2010 Juried exhibition #1 2010
Jun. 2009 Group show in Infusion gallery
Aug. to Oct. 2008 solo show, chop chop gallery
July. 2008 tandem show with Kazumi Tanaka, sculpture, LA artcore
Jun. 2008 Group show in Hangar gallery
May. 2007 We Love Liberty, Gallery Brown
Apr. 2007 Nippon Steel competition part 2
Feb. 2007 Around the Coyote Winter Festival 2007
Feb. 2007 Nippon Steel competition part 1
Jan. 2007 Open Painting 2007 exhibition, Providence art club
Jan. 2007 The Martin Luther King Jr. Day Mural Competition, American Youth Hostels
May 2006 The Undergraduate Thesis Exhibition, Gallery 2 SAIC
Awards
Sept. 2015 Juried echibition #7 2013 winner, Artslant
Jan. 2010 Juried exhibition #1 2010 winner, Artslant
Jan.2007 Open Painting 2007 exhibition, Second Place Prize, Providence Art Club